Youth Sports Camps and Tournaments for BASKETBALL, FOOTBALL, and HOCKEY!
The goal of Titans Athletics is to provide a safe and productive environment that enables children to learn and apply principles of teamwork, discipline, dedication, and sportsmanship. We facilitate the development of strength and character in every child that participates. Participation in our program is open to all boys in the metro Minneapolis/St. Paul area.
We are sustained by the efforts of volunteers who display an extraordinary amount of commitment and hard work, ensuring that our athletic programs are a positive influence in the lives of our children. We also strive to provide a service to our community by providing a healthy outlet for children, opportunities for the community to gather together, and endless hours of entertainment.
Titans All Star Hockey Showcase Classic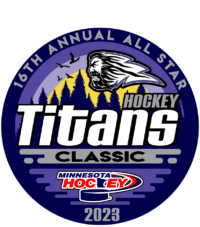 We're pleased to invite your association players to the
16th MINNESOTA HOCKEY/ TITANS SHOWCASE CLASSIC!
For those new to the program:  We draw players from all Minnesota districts and associations to compete in an end of season All-Star style game to showcase their talents.  Historically we average 700+ players from as many as 80+ associations who participate!
The Showcase combines 1-4 players who represent your team to join skaters from other communities to form the teams.
The Showcase is reserved for the following levels:
Girls
Boys

Squirt  B1, B2 & C
Pee Wee B1, B2 & C
Bantam B2 & C
2023 will have all games played on Saturday March 18th or Sunday March 19th, 2023.
Teams have (1) 80-minute practice/scrimmage to meet teammates, coaches and set lines.  Practices are held the week of March 12th at various metro arenas.  Your All-Star game will be played either March 18th or 19th in Andover, MN.
Outstate players will be scheduled Friday evening practice & Saturday game.

Minnesota Hockey on ice clinics will be available for registered players!
Additional sign up and a nominal fee are required. Info to follow.
Spotlight Classic players receive:
Spotlight game
Team Practice and scrimmage
Pro Style Locker rooms
Game jersey & socks
"Spotlight Classic" apparel
Star of the Game awards
Game announcers, introductions and player programs
Most important: Meet new hockey friends from other teams and communities!!  Cost is $89 per player.
PLAYER SELECTION: will be the discretion of your regular team.  It may be coach selection or team vote.  We ask you to consider skill, dedication, work ethic and effort as the basis for selection.
COACHES: We are looking for enthusiastic coaches  that will ensure this be a "fun and special" event.  Must be a USA Hockey certified coach.  USA Hockey number and a completed application required.
To register players:  Click Here for registration link.  Coaches or a team representative may contact us at hockey@titansyouth.com or 763-571-2555 to reserve roster spots.  You will need player's name, level of play and contact information to reserve a spot. Registrations must be completed starting January 19th until the event is full.  Teams are filled on a first come basis. Spots fill fast, don't wait!!
We are very excited to continue and expand this program for our young skaters. The Classic has always been received with great excitement!  We look forward to seeing your skaters show their stuff!
All questions and correspondence to: Titans Athletics 763-571-2555 hockey@titanyouth.com
** Please understand our cancellation policy which is located here.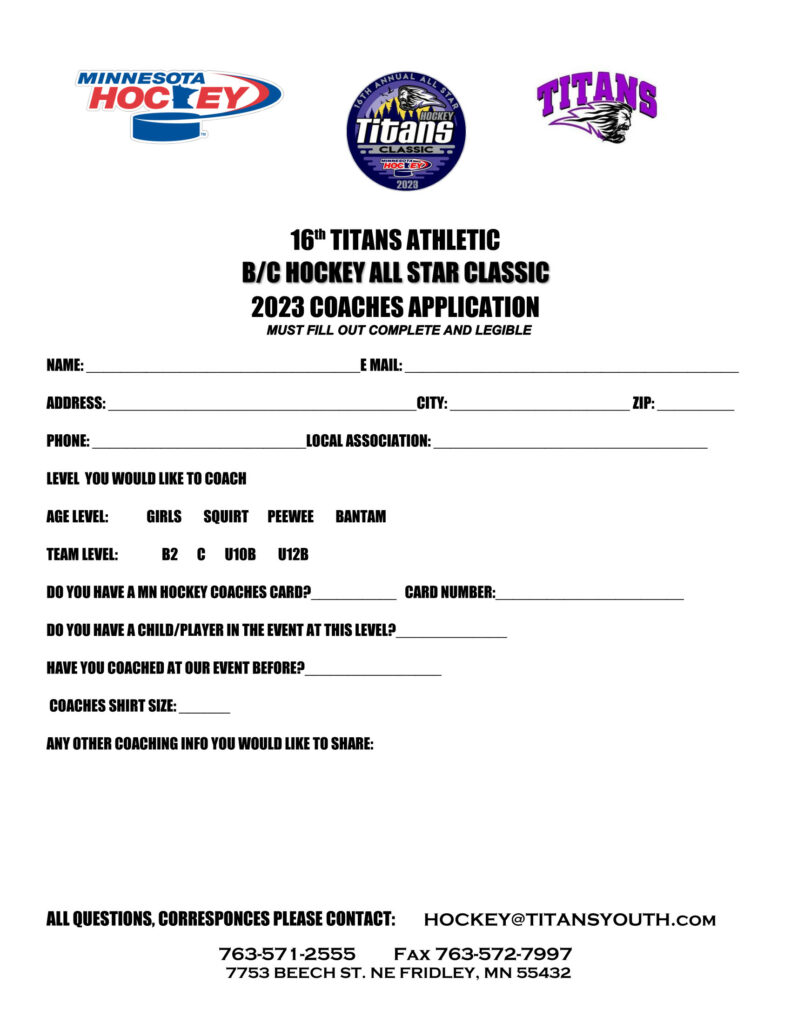 We welcome all children, regardless of race, creed or national origin. We appreciate the generous support of the community, local merchants, and civic organizations.
Cancellation / Refund Policy
Unless specifically stated in an agreement from Titans Athletics partners, the deadline to receive a refund for an individual registration is ten business days prior any part of the events activities beginnings.
Those cancellations prior to the above time frame will receive a refund less $15 for fees charged and administrative costs incurred. Refunds will be issued by check.
PLEASE NOTE: Due to the fact that all ice time is purchased and scheduled, including scheduling of referees for specific ages and skill levels which is based on information taken from registrations, and all event merchandise and apparel is produced to specific size for the individual registered, no refunds will be granted for any cancellation after the aforementioned stated dates / days. Cancellations received after the stated deadline will not be eligible for a refund.
Should a registrant for any reason not be able to attend, they are allowed to have an even exchange of their reserved spot via a substitute of their finding or through the assistance of the Titans staff via possible players on a waiting list if such a list exists.
Should a registrant for any reason not be able to attend or have a replacement / substitute  player fill their position, they will be entitled to all uniforms / gifts and other items reserved for or given to participants.
An extreme weather, pandemic related, government mandate, or other event or other act of God may or may not create cause to cancel the event. Each participant understands that unforeseen events could arise and assumes the risk of Winter / Spring Minnesota travel and movement. This policy in no way acts to dictate any  individuals decision making for themselves or others for what they deem to be safe or unsafe travel or conditions.
IMPORTANT: All aspects of this event are prepaid by Titans Athletics deeming an inability to refund based on such factors that are in no way controllable by our entities. Should such an event take place, event staff will make every effort that resources and time allow to maximize the events potential.