Titans All Star Hockey Showcase Classic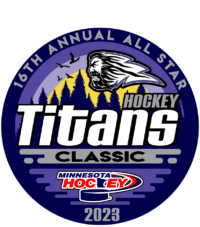 We're pleased to invite your association players to the
16th MINNESOTA HOCKEY/ TITANS SHOWCASE CLASSIC!
For those new to the program:  We draw players from all Minnesota districts and associations to compete in an end of season All-Star style game to showcase their talents.  Historically we average 700+ players from as many as 80+ associations who participate!
The Showcase combines 1-4 players who represent your team to join skaters from other communities to form the teams.
The Showcase is reserved for the following levels:
Girls
Boys

Squirt  B1, B2 & C
Pee Wee B1, B2 & C
Bantam B2 & C
2023 will have all games played on Saturday March 18th or Sunday March 19th, 2023.
Teams have (1) 80-minute practice/scrimmage to meet teammates, coaches and set lines.  Practices are held the week of March 12th at various metro arenas.  Your All-Star game will be played either March 18th or 19th in Andover, MN.
Outstate players will be scheduled Friday evening practice & Saturday game.

Minnesota Hockey on ice clinics will be available for registered players!
Additional sign up and a nominal fee are required. Info to follow.
Spotlight Classic players receive:
Spotlight game
Team Practice and scrimmage
Pro Style Locker rooms
Game jersey & socks
"Spotlight Classic" apparel
Star of the Game awards
Game announcers, introductions and player programs
Most important: Meet new hockey friends from other teams and communities!!  Cost is $89 per player.
PLAYER SELECTION: will be the discretion of your regular team.  It may be coach selection or team vote.  We ask you to consider skill, dedication, work ethic and effort as the basis for selection.
COACHES: We are looking for enthusiastic coaches  that will ensure this be a "fun and special" event.  Must be a USA Hockey certified coach.  USA Hockey number and a completed application required.
To register players:  Click Here for registration link.  Coaches or a team representative may contact us at hockey@titansyouth.com or 763-571-2555 to reserve roster spots.  You will need player's name, level of play and contact information to reserve a spot. Registrations must be completed starting January 19th until the event is full.  Teams are filled on a first come basis. Spots fill fast, don't wait!!
We are very excited to continue and expand this program for our young skaters. The Classic has always been received with great excitement!  We look forward to seeing your skaters show their stuff!
All questions and correspondence to: Titans Athletics 763-571-2555 hockey@titanyouth.com
** Please understand our cancellation policy which is located here.